Uncle Harvey brings aspiring and practicing neurosurgeons improved accessibility to all neurosurgical resources. Uncle Harvey also serves as a centralized hub for sharing ideas, networking, and mentoring in order to connect students, trainees, and professionals alike. Our organization was founded in 2020 by leaders in organized neurosurgery to strengthen the interconnectedness of the community.
As Co-founder and Head of Marketing and Business Operations, I created the entire brand and marketing plan from the ground up. With a three-color gradient and a nod to Harvey Cushing, father of Neurosurgery, I'm thrilled to provide all front-facing audience assets for our platform. My work stretches from sponsorship packet creation, logo and brand design, UX design, to content creation (Podcast cover, banners, and social media artwork). I also focus on all financial management and sponsorship/partnership relations.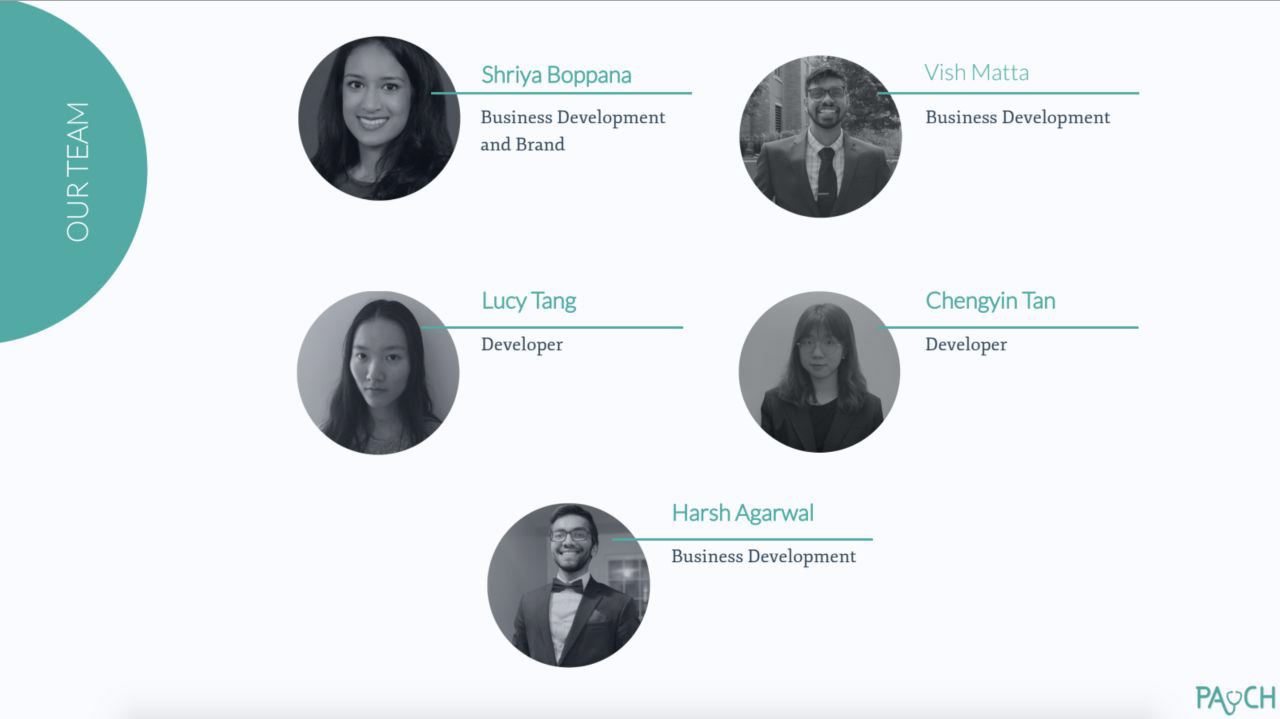 PAtch, a comprehensive algorithm and database of Physician's Assistant programs located within the United States that allow aspiring Physicians Assistants to assess their standing with potential programs to see if they are a good fit. PAtch is a one-stop guide that aides students in the PA application process. From tracking shadowing hours, GPA, standardized testing, and education to comparing applicant credentials with programs to decide on the best possible match, PAtch does it all.
​​​​​​​
As the team lead, I led my group to a 3rd Place win at the ORIGIN Bootcamp Pitch Competition hosted by Cornell University.
Along with a team, I created a plan (including models, business structure, wireframes, marketing plan, and financial projections) for a database and mobile application using real-time technology and automated passenger tracking that would make the bus network in Pittsburgh, as well as riding the bus, more efficient by fixing overcrowding in cities with an influx of new users with unpredictable riding patterns.
Out of 9 hand-selected teams of 4 to compete, we placed 3rd at the Deloitte StartUp CMU competition despite being the only all first-year team competing against teams of upperclassmen and graduate students.
I later went on to receive a nomination for Forbes 30 Under 30 in Consumer Technology for BusyBus.
I served as the Public Relations Chair for two years for Legends, the official Bollywood Dance Championship of the  501c non-profit: Desi Dance Network, inc.
Remodeled and streamlined social and digital media outlets for cohesive brand identity.
Transformed viewership experience of show and show platforms with interactive and adaptive information release using motion and still graphic content on social platforms.
Strengthened presence of the organization in national and international outlets through increased media coverage with local Chicago newspapers and popular streaming services, FlowersTV and Hotstar. 
Contributed to the growth of social media platforms to over 10,500 group members and over 400,000 YouTube views.
​Design Responsibilities of my role were assisting in content creation designed to display the well-known Legends crown and color palette and upkeeping social media presence on prominent platforms such as Facebook, Instagram, YouTube, and Twitter.
World Wide Technology is a $12 Billion tech reseller on the Fortune 100 Best Places to Work list. On its 9th year of Glassdoor's Great Places to Work list, WWT has worked with hundreds of popular technology partners including Hewlett Packard, Cisco, Intel, Microsoft, Dell Technologies, AWS, and more. 
With a two-year paid internship with the Public Sector Marketing team, my work includes:
Enhanced brand awareness through media kit guideline introduction to Public Sector Marketing team and content creation support under design lead.
Spearheaded campaign outreach and documentation of leads, contacts, and connections with over 100 new campaigns on Salesforce.
Orchestrated event planning and coordination.
Created Public Sector Marketing landing page for easy user accessibility to popular marketing resources.
Dranesville District Supervisor, John Foust, serves on the Board of Supervisors for the Fairfax County Government of Virginia.
As his operations intern, my impact:
Facilitated day-to-day operations of Dranesville District Supervisor, John Foust
Modified presentation and pitch decks for viewer comprehensibility
Evaluated research methodologies and initiated new research on development plans in child
populated areas on the harmful effects of tarp and sustainable alternatives
Author and Speaker, Michelle Fondin has authored, Twin Flame Romance: The Journey to Unconditional Love (2019), Chakra Healing for Vibrant Energy (2018),  The Wheel of Healing with Ayurveda: An Easy Guide to a Healthy Lifestyle (New World Library, 2015), Help! I Think My Loved One Is an Alcoholic: A Survival Guide for Lovers, Family, & Friends (2016), and Enlightened Medicine: Your Power to Get Well Now ( 2018). Michelle speaks about health, wellness, and spirituality. 
As her marketing intern, my impact:
Designed logo, media kit, sponsorship packages, and website for increased customer and investor accessibility
Incorporated branding into social and digital media platforms
Secured corporate sponsorship gain from Wholefoods and The Chopra Center
Increased social media campaign outreach for audience by 5,000+ views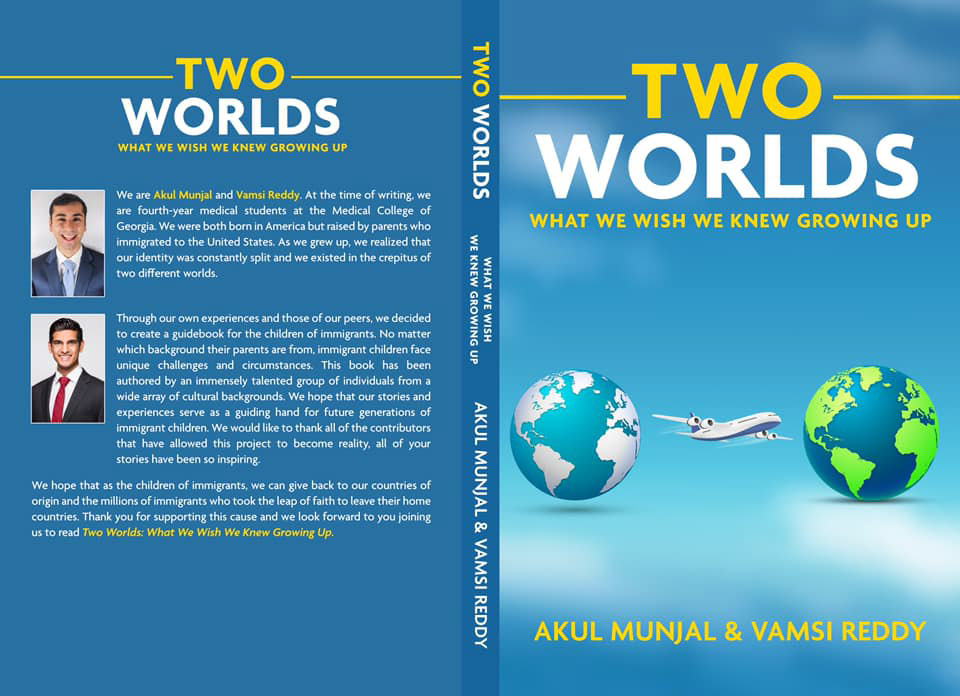 "Two Worlds: What We Wish We Knew Growing Up" hopes to shed light on the various experiences and challenges that the children of immigrants face growing up in America. An anthology curated by immigrant children and third-culture kids, "Two Worlds" focuses on a broad range of personal, interpersonal, and societal issues of adaptation.
My chapter, "4.2 CHAINED TO MY MOM'S SACRIFICE," focuses on the struggle to make my own decisions while constantly working to make my parents' immigration worthwhile. It's a battle between individual and familial needs.
"Unsent Letters from the South Asian Diaspora" brings together the incredible and couragerous women and non-binary people of South Asian origin as they voice their stories through unsent open letters. This stirs a conversation about how impressionable we are to our surroundings, society, culture and our loved ones. With that belief the co authors share their incredible life journey while exploring various topics such as self-acceptance, mental health, regional and gender disparity, beauty inclusivity, colorism, values and beliefs, empathy, relationships and inspirations.
My chapter, "The Color Yellow," focuses on the world through my eyes as we see the beauty of a color in its heritage.